Wellbeing Week
We had an inspiring and thought-provoking Wellbeing Week with activities designed to educate and encourage good habits that boost wellbeing and feelings of positivity. 
The week started with the energetic Fantastic FRED Experience. Sessions ran throughout the day for all year groups and gave children tips on managing their mental health, delivered in a fun, engaging and memorable way, based around four main themes of Food, Rest, Exercise and Devices.
The Fantastic Fred Experience is part of the Good Mental Health Matters campaign, launched by NHS Kent in 2019, to help raise awareness of mental health among young people in Kent, and equip children at a very early age to improve their lifelong emotional resilience.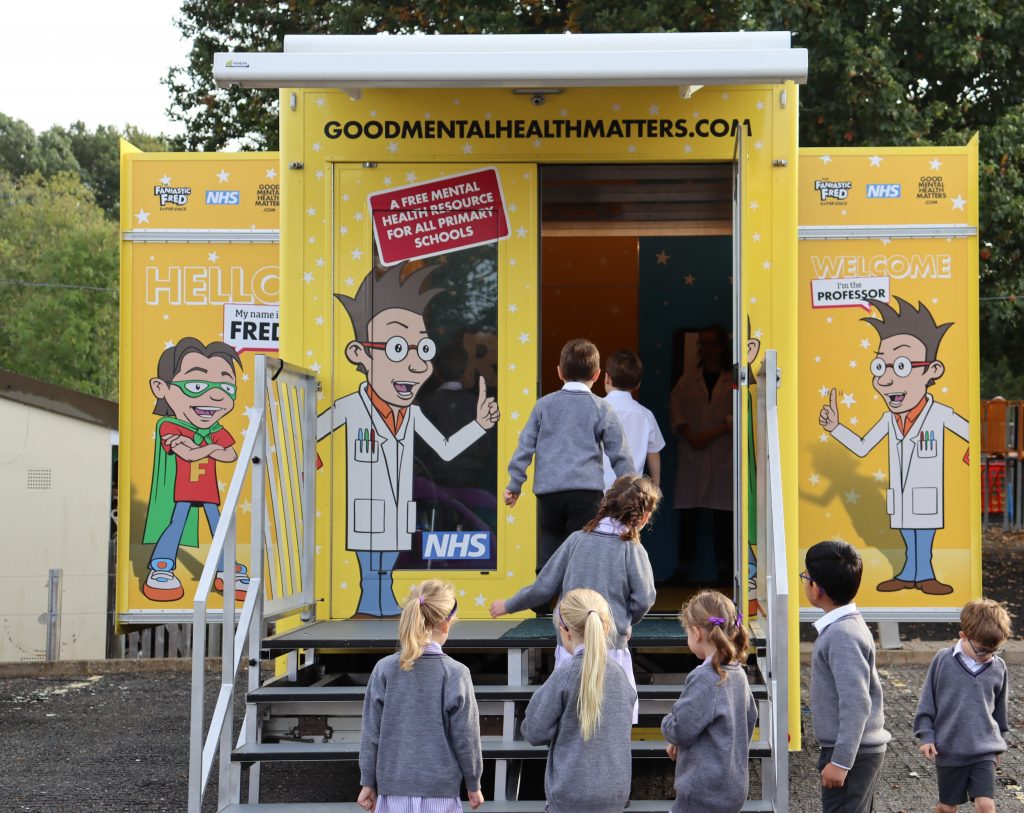 Those four themes were then explored in greater detail, starting with Tuesday when Hilden Grange met Judy Clark, the founder of Babywinkz, who joined us to talk about good sleep habits. She talked to the younger children about the importance of sleep and good routines before bed and shared some of the science behind sleep to the older pupils and encouraged them to establish 'digital free' time at least two hours before bed. She met some of our parent body and delivered two bespoke sessions. Two of Year 5 boys adopted some of her suggestions and were thrilled by their good night's sleep!
On Wednesday, to talk to the children about the use of our devices was Mr Darren Cank. The children participated in some exciting quiz games, exploring some quite surprising statistics! For example, did you know that 5-15 year olds spend 97% of their time on their device on some sort of game?
Children from Reception, Years 1 and Year 2 were honoured to be invited to the Old Fire Station for a reading of Amanda Prowse's new book 'The Smile that went a Mile'. The book's theme is about the power of kindness. The illustrator, Paul Ward Smith, showed the children his artwork that accompanied the story and the they all created their own pictures based on the themes of the book. It was really exciting to meet both the author and the artist, and the children were bursting with questions to ask.
Alongside the organised activities, it was wonderful to see the children take inspiration from the theme of wellbeing to create their own initiatives. Isla in Year 4 had the lovely idea of a beach-themed window display for the 4N form room. The vast majority of the class participated in designing and assembling this display, which is now in position in the windows. The children showed fantastic responsibility, teamwork and positivity as they designed and decorated waves, boats, bathers, sandy beaches, light houses and seagulls. We are all hoping it will instil mindfulness and a memory of the warmer summer months!
To tie the Wellbeing Week together, we were very lucky to host two extremely inspiring speakers. Kate Shilland, a sports and performance nutritionist who worked with Emma Raducanu ahead of her US Open victory, gave an entertaining talk packed with nutrition advice based on the principle of 'eat well, feel good, perform better'.  The children eagerly took the messages on board and Kate was impressed with their responses.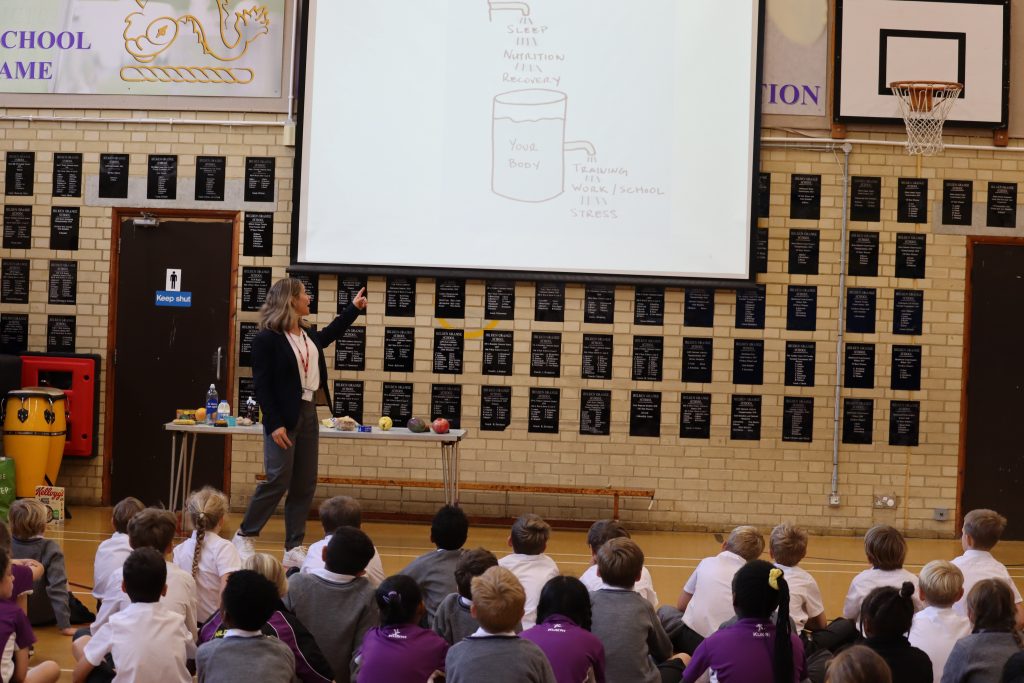 "It was great to meet you all – what a brilliant bunch of kids you have there. I loved their enthusiasm. I particularly liked the idea of porridge and spinach for breakfast! So important to introduce the subject of nutrition at such a young age. Every school should do wellbeing week. Well done to you all and thank you for making me part of it."
 The headliner for the Wellbeing Week was Naomi Riches, a Paralympic Champion, who won a Gold Medal at the London 2012 Paralympics as a member of the Mixed Coxed Four. She shared her life story with the children, from the challenges she faced at school to seizing the opportunity to join Great Britain's Adaptive Rowing Team. The children were enthused by her talk and excitedly cheered her on as they watched the film of the 2012 race. It was a real thrill, and hugely inspiring, to meet a real life Paralympic Champion and to see the gold medal close up, especially after learning just how much effort and determination had gone into winning it.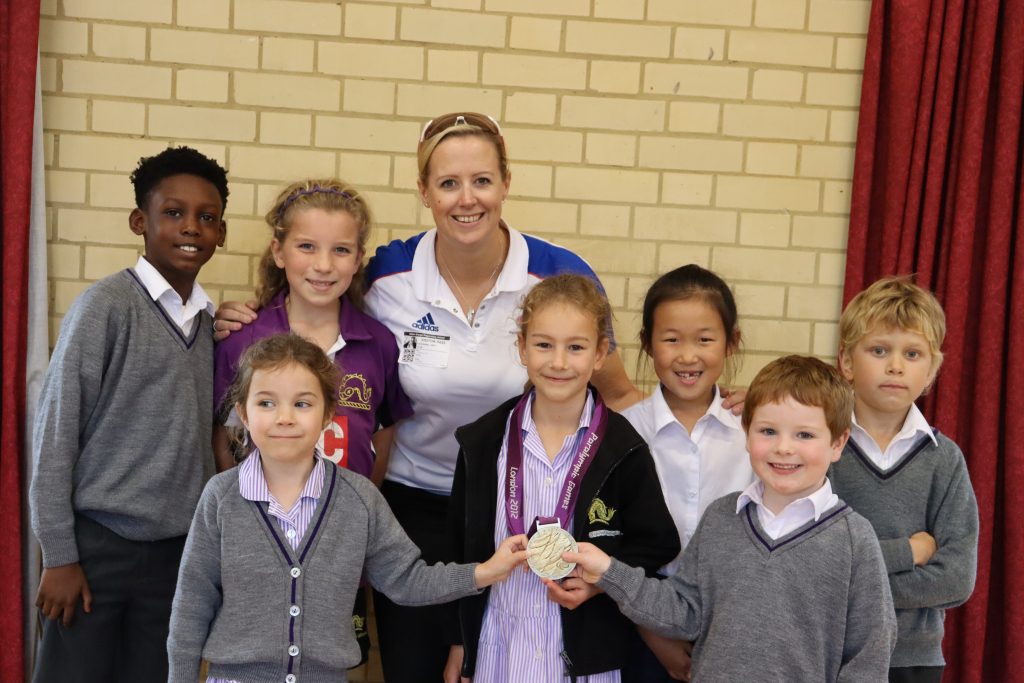 Afterwards Naomi said, "What a wonderful day. I'm buzzing. I was very impressed by all the questions from the students, they really made me think." Thank you so much to all the children who embraced the Wellbeing Week with such interest and receptivity. They sat, listened, questioned with maturity and did not fail to impress all out visitors with their excellent manners and attitudes.